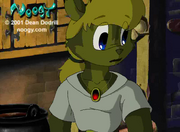 Leddinger is a flying squirrel who serves as
Bonnie
's mentor and big brother figure in the
Elysian Tail
movie. He has a daughter, Taka, and is voiced by Dean Dodrill in an early test video.
An earlier version of Leddinger was more cartoony in design. In "Living On A Prayer," he is one of the three prophesized to save the world from total chaos brought about by a reborn denizen of Hell.
External Links
Ad blocker interference detected!
Wikia is a free-to-use site that makes money from advertising. We have a modified experience for viewers using ad blockers

Wikia is not accessible if you've made further modifications. Remove the custom ad blocker rule(s) and the page will load as expected.